The hood is joined to a ducting (flue) system which flows through to the extraction fan.  The fan draws air from the kitchen, through the honeycomb filters, the duct system to the fan where it is expelled into the environment.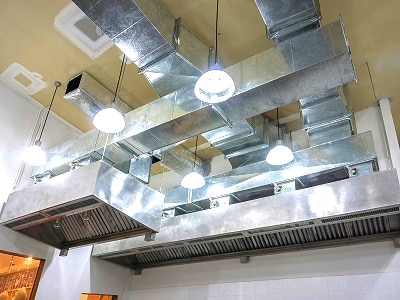 Grease and other food particles build up in the ducting system impacting on the airflow and the speed in which the fan works.  We have removed dead cockroaches, rates, mice, birds and possums from filthy ducting systems.  If the fan is not cleaned regularly it will gradually slow down and stop altogether leaving a build up of smoke and fumes in your kitchen.
Many insurance companies and environmental health departments require the ducting system to be cleaned on a regular basis usually every twelve months depending on the type of food outlet.  Some companies require their ducts to be cleaned every four months.
The duct cleaning cycle will depend on the environmental situation, the type of cooking your establishment is involved in, the frequency of the filter exchange and hood cleans, the setup of the fan system and most important your insurance company requirements.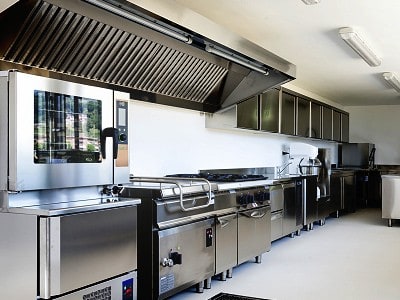 A primary defence against fire hazards in any kitchen is regular maintenance of the ducting system.  Kitchens can become hot and even a small flare up while cooking can lead to flames entering the ducting system causing a fire. The intensity of the fire could be determined by the build up of grease and particles in the ducting system.  You wouldn't want to see your business go up in smoke or cause an injury to a member of your staff.  A regular clean means a safer ducting system preventing a build up of fat.
When NCFS cleans a ducting system, the area behind the filters including the internal surface of the ducting system to the fan is cleaned.  This process also covers the fan and housing on the roof.  In many situations NCFS needs to cut and install access panels into the ducting system to allow for a professional and thorough clean.
If you require a quote please phone us on (02) 6554 5671 or fill in our enquiry form